Seek a Skill Interactive Careers Expo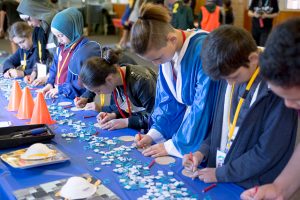 SWC and its partners developed the Seek a Skill (and Mini Seek a Skill) Interactive Careers Expo, as a means of addressing the skills and jobs shortages across Western Sydney and inspiring young people to consider and explore career pathways by connecting with people already in the field or have the resources to help them. The Seek a Skill motto of "find out what you like doing best and get someone to pay you for doing it" (Katherine Whitehorn) remains highly relevant as we continue to explore opportunities to evolve the Seek a Skill initiative to inspire even more young people.
Apprenticeship & Traineeship Expos
In partnership with Brett Carter Events, the 2021 expo was planned to be hosted for the third time in Liverpool at the Whitlam Leisure Centre but was cancelled due to COVID-19 restrictions. The previous expo in 2019 was attended by 2,000 students, parents, Careers Advisers and young job seekers. They had the opportunity to meet with potential employers, training providers and organisations that provide support services for young job seekers.